Carrying on a Legacy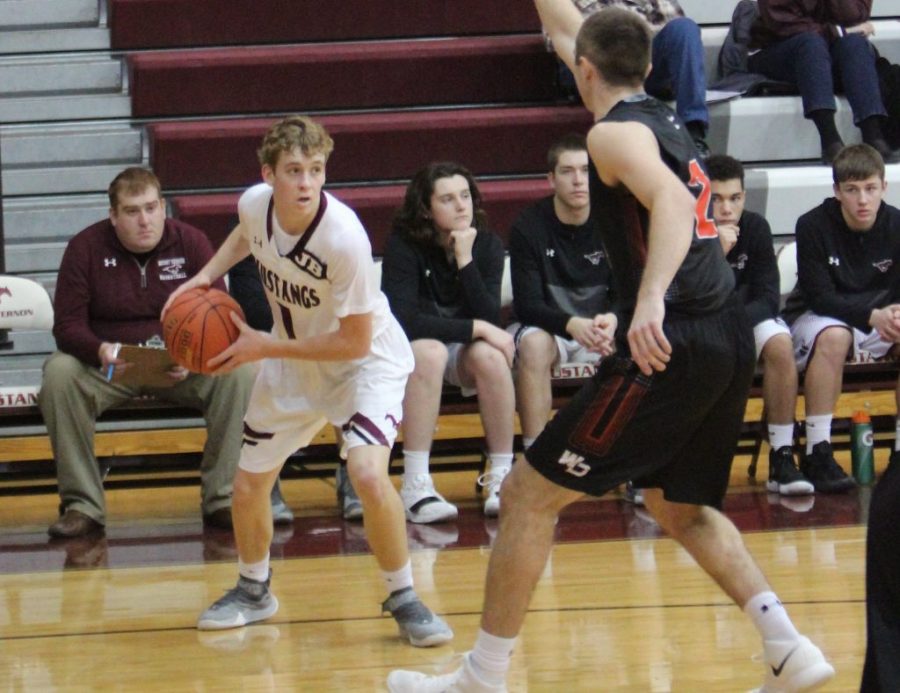 By Annie Rhomberg
The legacy of basketball talent has run through the Brand family for generations. Mount Vernon junior, Nolan Brand, has carried out that tradition with flying colors. Brand is a two-year starter for the Mustangs and is one of the team's top scorers. He also has twice the number of rebounds than anyone else on the team.
Ever since he could remember, Brand has been around basketball. "When I was born, my parents were both coaches and both my grandpas had coached as well," Brand said.  "My Grandpa Denny Brand won state in Montezuma when he was a coach there, so the love of basketball has been in the family ever since."
Growing up, he enjoyed going to tournaments with his travel team that his dad coached. He had basketball role models all around him. "My biggest role model is probably my Grandpa Roger Olhausen because he's taught me a lot about basketball. He taught me the hook shot, which I use all the time in games. He's just a great person that I've always looked up to."
Throughout his life, Brand has illustrated his passion for the game through his hard work and determination. He utilizes his time in the offseason by getting in the gym multiple times a week and going to various team and individual camps to improve his skills. Brand's commitment and determination to improve and succeed in the game is very apparent. Any fan in the stands of a Mount Vernon boys basketball game would notice Brand's hard work and team-first attitude right away.
"Nolan Brand gets as much out of his abilities as anyone I've ever coached. He is also one of the best rebounders I've ever coached," said Mount Vernon head basketball coach Ed Timm.
Brand describes himself as having a good basketball IQ and therefore being a knowledgeable rebounder. "One thing I value is doing the little things right because that's something that everyone is able to do," Brand said. "When everyone does that, it can bring the team to the next level."
Brand's team-first attitude is displayed through his active screening throughout the game to get his teammates open for shots. He claims that it's important to be a selfless player and focus on the team's overall success, not just personal growth. "I like how basketball is about everyone working together to be successful. Everyone has to help each other out in order to be a good team."
Those characteristics describe the current Mount Vernon boys basketball team. Brand describes his team as extremely dedicated people who all work hard to create success for the team as a whole. "We've never been the biggest guys on the court, but I think we make up for it with the competition that we bring and all the hard work we put in." Brand's highlight of this season so far is the buzzer beater win over DeWitt in double overtime. "It was the best game we had played all year and Keaton's buzzer beater at the end was completely unreal." The memories of this game will last a lifetime.
Brand explains that the skills that are learned while playing basketball can be reflected in the rest of life. Being able to work hard with other people to create success is a very valuable ability.
His advice for those who desire to be talented basketball players is to find time in the gym. There are always skills to work on and to improve.