A Dream, a Team, and a Purpose
Hang on for a minute...we're trying to find some more stories you might like.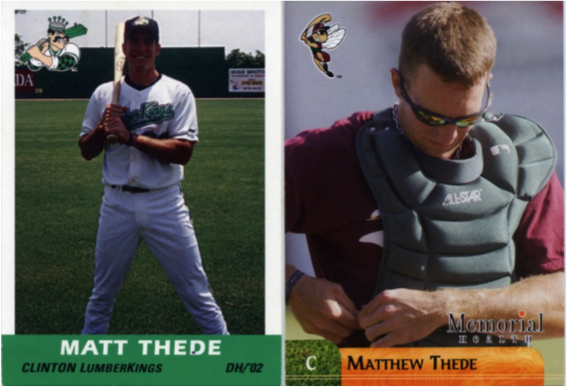 By Caden Eskelsen
It is the same dream that almost every kid has: to be a professional athlete. Mount Vernon athletic director Matt Thede grew up with that dream. Along the way, Thede got used to hard work, and he always remembered his goal which was to make a difference in the lives of others.

Growing up he was playing a sport all year long, staying out as long as possible into the cold Iowa winter playing football with his sister's friends who were three years older, getting into school gyms thanks to his friend's father who worked at the school, and playing baseball all spring and summer.

He played various sports all the way to high school and then the question arose, "Could I actually play professional sports?" The same question arises for anyone with the dream of playing a professional sport and most answer with a resounding no. Thede wasn't so sure.

He continued playing all his favorite sports through high school and found he was best at baseball. Thede learned he had a knack for the catcher's position and worked hard behind the plate. He became skilled at picking off the advancing runner and he also became a solid batter to make himself a useful piece of his team.

He had lots of schools come to watch him play, but only a few showed interest. His decision came down to Iowa State University and Wartburg. The obvious choice would be Iowa State, if he was going to chase his dream because it's a higher level. But the Wartburg coach showed him a lot of attention, and that means loads to any high schooler. Thede wanted to go somewhere where he could have fun with baseball and be a part of a program that valued his presence.

Wartburg was a great fit for Thede, but Division III athletics deserve a little more respect. Most people think if you have a successful high school career, that Division III would be an easy transition and a starting spot will be waiting. That turned out not to be the case; it took a couple years in a third string catching spot on the Wartburg team before he made the cut.

"If people know anything about pitching and catching they know that the relationship between a pitcher and catcher is a big deal," said Thede.

When Thede first got to Wartburg there were some older catchers that had a better relationship with the pitchers. It took a couple years but he eventually developed a good relationship and favor from the pitchers. He would finally be the starting catcher his junior and senior years at Wartburg.

Getting from a Division III school to the professional level is a big step, but Thede was up to the task. He played in a summer league in the Cedar Rapids area, where he won Most Valuable Player. It wasn't the highest caliber competition but there were some Division I pitchers there, looking to work out their arm in the offseason. That started to raise some eyebrows.

After his junior season at Wartburg, Thede was convinced by a friend to go to a Major League tryout camp. He reluctantly went. He hadn't played in a while, but he went anyway. Thede was starstruck, all the major league stars he grew up watching were there as scouts. He got to hit off of a bunch of incredible pitchers that were trying out as well. At the end of the day, they pulled him over and told him that he had a great day. The major league dream was alive.

Soon after that tryout, Thede got a text from his coach asking him why he was getting loads of texts from multiple major league organizations. Thede spent his senior season performing at the best of his ability. He finished second team All-American, set the Wartburg single season home run record, and won the triple crown his senior year. A triple crown is a stat line where a player leads their league in batting average, home runs, and runs batted in (RBI). Major league scouts would come down onto the field during his batting practice and switch out his aluminum bat for a wood bat to see if he really had major league potential.

The scouts liked what they saw, so they brought in the cross checker. The cross checker is one of a few scouts who makes sure that a player legitimately has major league potential. The cross checker was called in for Thede and that meant there was hope of a career! Sadly, he didn't make his argument very convincing, calling it the "worst day I had all season."

Thede played well enough to get drafted. He signed with the Montreal Expos Organization in 2001, and he got a plane ticket, $500, and a Topps baseball card contract. Thede headed out to the Gulf Coast League to play rookie ball for the Gulf Coast Expos. He had to play with the high school stars that had heads bigger than their batting averages.

Getting playing time was a tough task since Thede didn't seem as promising as the other high school "prima donnas" so he had to work extra hard. Hard work was something Thede was used to. Small high school and small college baseball had prepared him for the jump. He played his whole first season with the Gulf Coast Expos.

After a good game in the GCL against the Dodgers, Thede was moved up in the ranks. He got moved to Clinton, Iowa to play for the Lumberkings. He played even better there and got moved to the Vermont Expos. There Thede got to be in the Montreal clubhouse and be with the MLB team. He got to lift weights with Jose Canseco and Tim Raines — two major league stars — at spring training. He got to be in the bullpen with pitchers like Bartolo Colon "Big Sexy", Randy Johnson, and Curt Schilling.

Thede was moved to various places, back to Iowa, then a whole season with the Savannah Sand Gnats.

Thede realized he wanted a family, so as much as he loved baseball, he gave up the dream so he could finish his education and make a difference in others' lives. He went back to Wartburg and met his wife Jessica, who played basketball there. She wanted to teach. Thede had a major in biology and wanted to work outside with animals, another one of his loves.

Thede got a job teaching and found that he was doing what he always wanted to do, make a real difference in the lives of others. He taught at Benton Community and Cedar Rapids Prairie before he came to Mount Vernon. He came here to raise his family in the district. He loves where he is now, but there are times when he imagines where he could be if he hadn't quit baseball. Finding out about some Expos staff asking about where he went and talking about how much potential he had will always make him wonder. He learned that no matter what job he has there is a bigger purpose than baseball or classwork. Thede knows that everyone can lend a helping hand to those in need, no matter what position they are in.