Senior and Sophomore Pink Ladies Finally Win PowderPuff
By Erin Fencl
The senior/sophomore Pink Ladies defeated the junior/freshmen T-birds 21-13 at this year's powderpuff game. For the seniors, this game had high stakes as they had never won before and as for the sophomores, it was their first victory as well.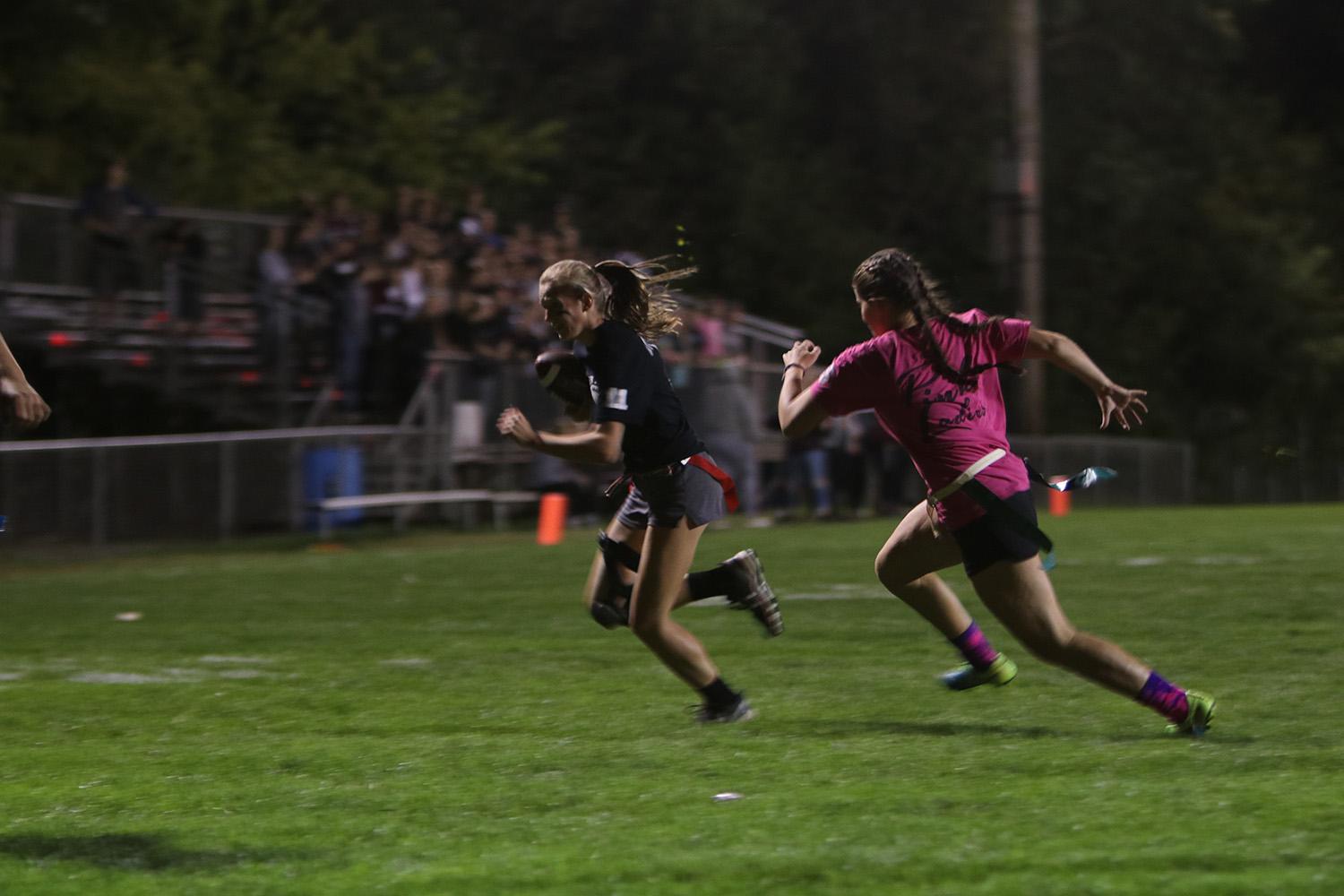 The seniors really needed to pull out a win to end on. They were just as surprised as anyone that they actually won the game. "I was super excited!" said senior Sammy Moss, who scored two of the three touchdowns and two extra points for the Pink Ladies. "It was my final powderpuff game and I got to have a great time with my friends." Moss has been a key contributor to the class of 2019 team for all four of her high school years.
After the first play of the night, everyone knew it was going to be a great game. The T-birds scored the first touchdown when freshman Jenna Sprague was hiked the ball and handed it off to junior Ella Wischmeyer in the first quarter. "The play was supposed to be a run to the left, but I saw that there were a lot more people that direction so I told Jenna I was going to go right and thankfully I made a score off of it," said Wischmeyer.
After the first touchdown the game continued on, the Pink Ladies had solidified their game plan. "At first it was just to run the plays we did in practice and keep the ball in our fastest runners' hands," said senior Abby Davidson, "but then as the game went along the T-birds were only focused on making sure Ella had the ball and so our goal changed to keep her covered. We relied a lot on our defense for most of the game, but our offense pulled through big time."
In the end, the Pink Ladies came through with a big win. Moss took the ball right and straight into the corner of the end zone. Then on the final buzzer, the student sections rushed onto the field to cheer and celebrate the much-needed victory. "When the fans ran out on the field with us I felt that we had finally accomplished what we never could before," said senior Rachel Lochner, "I am just happy to be a part of it."