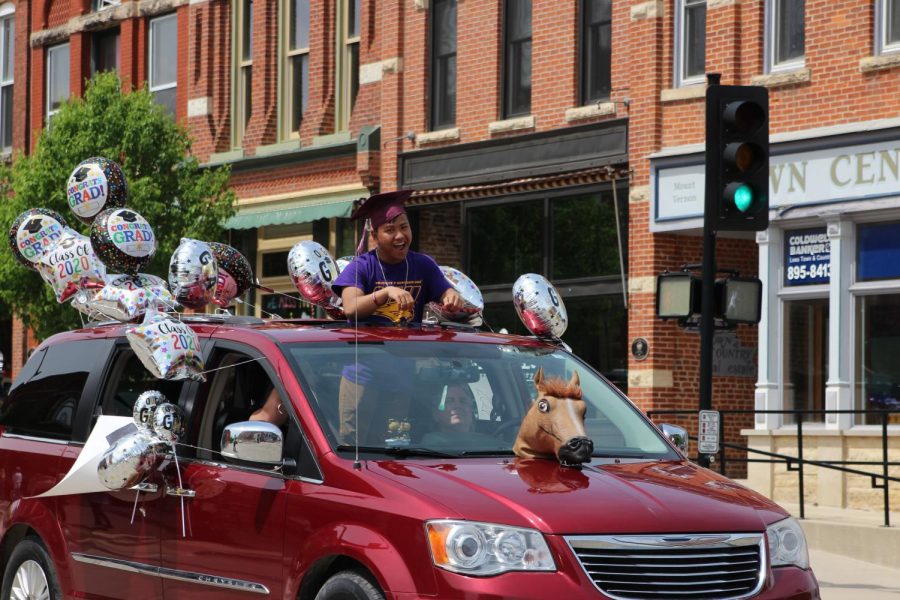 Lillie Hawker
Instead of having a traditional graduation ceremony, the class of 2020 got to have a parade May 24. The parade started at the school after seniors had portraits taken and received diplomas outdoors from Principal Steve Brand.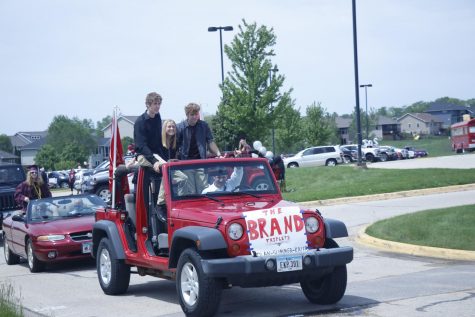 "I really loved the parade and thought it was perfect," said senior Lauren McCollum. "It was a quick thing but so worth it and I think it would be nice to have as a tradition for every class. So many members of the community were there to support us, and it was a lot of fun getting to see everyone and their decorated cars," she said.
After not being in school since March 13, the students and teachers of Mount Vernon gathered at school. "My favorite part of the parade was getting to see all of my classmates again," said McCollum. "I love every person in our grade and was so excited to see people dressed in their caps and gowns! We've been learning and growing together for years and it was nice getting to reflect on memories with each other."
"I thought the parade was amazing," Principal Brand said. "The weather was perfect. The community came out and supported the seniors and nearly all of the seniors participated. I felt like the parade gave everyone closure by being honored as the 'main event' of the parade." Brand has triplets who graduated this year. Similar to Brand, many parents were sad things ended so abruptly, but he was glad he got to ride with them in the parade and see the joy they got from the event. Many seniors decorated their cars with signs and posters, they also rode on top of their cars or in the back of a truck. 
"When seeing everyone together, it became a reality of how much I missed everyone in the senior class," Brand said."I have gotten the opportunity to spend a lot of time with my own kids, but have missed out on time with the students in school. I know how important learning is…that's why we have school, but I believe relationships are every bit as important. I was grateful to see all the students!"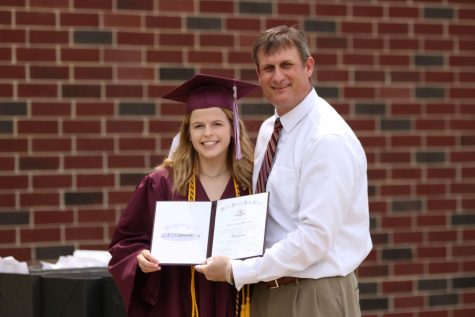 Brand got to hand all the students their diplomas outside of the school and get pictures with them. "It was a very quick process! I'm going to be honest, walking out of those doors to Mr. Brand handing me the diploma felt weird but in a good way. Our class got to have a unique experience and I think it will be something interesting to look back on," said McCollum.
It wasn't the graduation that the senior class imagined they'd have, but it was an experience they will never forget. "It was a great feeling, but also a strange one! Knowing inside that it might be the last time I see some of my classmates was really sad," said McCollum. 
This year's graduation class got an experience no other class has had before.
"I'd like to give a huge thank-you to Kevin Murray and Brett Karkosh for organizing the parking for the parade! Also, Ed Timm, Alissa Sabers, Sue Deibner, Alaina Appley, JoAnn Gage, Matt Thede, Vicky Weiseler, Annie Hawker, and Stephanie Timm for helping out in a variety of ways. I'm so glad we found a way to honor the Class of 2020. Every individual in this class is special. I wish each of them the very best and Mount Vernon's newest alumni, " said Brand.