Contact Us
themustangmoon.com is the official website of the student journalists of Mount Vernon High School in Mount Vernon, Iowa. MVHS has a population of 422 students in grades 9-12. Journalism adviser JoAnn Gage can be reached by email at jgage@mountvernon.k12.ia.us or at the school number (319) 895-8843 ext. 4110
Rules for posting comments:
1. Abstain from using any language that is derogatory, abusive, libelous or discriminatory on the basis of race, religion, nationality, gender, sexual preference, age, region, disability, etc.
2. Do not post repeated messages, meaningless messages or "spam".
3. Do not threaten other people in any comment you submit, including the author of the article other individuals that post comments on the site, etc.
4. Do not publish or distribute any content that advertises or solicits goods or services.
5. themustangmoon.com reserves the right to delete, move or edit any comments that are deemed unacceptable.
6. Students should use their school email address so that the website administrators know the identity of the writer.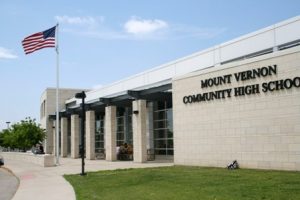 Mount Vernon Community High School
731 Palisades Rd.
Mount Vernon, IA 52314
(319) 895-8843