Activities
,
News
,
Rotator
— By
Editor
on March 28, 2018 1:06 pm
By Ben McGuire
In wake of the tragic shooting at Parkland High School in Parkland, Florida, in which 17 people were murdered, the shooting has reignited a nationwide conversation about gun control, violence and the safety of American schools. Millions of people all over the country have joined the conversation, but the most overwhelming voice has been the students. On March 24, students in cities across the country participated in the "March for our Lives" against gun violence.
A large group of Mount Vernon students had planned to attend the march in Iowa City, but due to the bad weather were unable to attend. However, two seniors Clarissa Player and Matt Zobac braved the blizzard and made their way down to Iowa City to have their voices heard.
"I've developed a pretty strong belief in common sense gun control to curb the gun violence epidemic in America," said Player. "Not just school shootings but police brutality as well." Clarissa has been involved in the Social Justice Club, as well as being very active on social media. "I hope we influenced some people's opinions or even made them want to fight alongside us as well," said Player.
Clarissa was accompanied by her friend and fellow senior Matt Zobac. "I wanted to make my voice heard, and make a difference because change needs to happen," said Zobac. "No matter how small or insignificant you feel your voice may be, it really can make a difference," said Zobac.
Discussions and protests like these continue to form throughout the country, and these two students will continue to voice their opinions and try to force change. Mount Vernon students were unable to participate in the Enough! National School Walkout held at 10 a.m. on March 14 due to being out of school on spring break, but they have remained at the forefront of the conversation.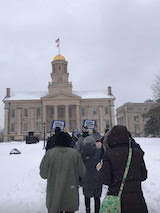 Tags: protest