Creative Corner
,
News
,
Rotator
— By
MVHS Staff
on February 7, 2018 11:10 am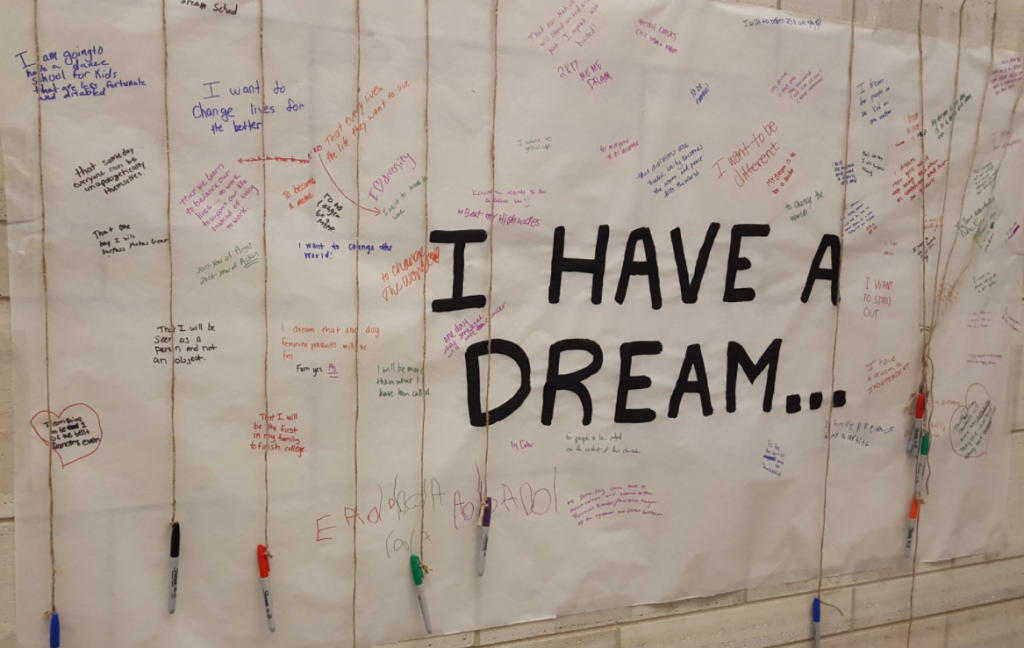 By Abby Davidson
C.A.R.E. Connect. Absorb. Respond. Empower.
Those were the words repeated on Jan 15 the day we celebrated MLK Day here at Mount Vernon High School. Students started the day in the gym, listening to the opening ceremony lead by Principal Steve Brand, English teacher Leigh Ann Erickson, and keynote speaker Stacey Walker, who is the first African American on the Linn County Board of Supervisors. This conference offered something different for everyone, the first of its kind in our school.
Mount Vernon High School was filled with guests from different backgrounds with different expertise, each one talking about different experiences they've had or organizations they are a part of. In Mount Vernon students don't see diversity at a large scale, so a conference of this sorts was very eye opening to some. Over 20 speakers showed up to speak with students in separate sessions.
Speakers such as Carlos Devone came from a rough upbringing, but turned what he was given into something powerful. Devone uses his rap music as an output.
Journalist Dean Borg was present in the South reporting on cases like the Little Rock Nine.
Dancer LD Kidd gave small lessons teaching students how to dance and explaining what dancing has done for him.
One of our own, Ann Dew, spoke about first impressions, which also featured alumni speakers Tristan Wirfs ('17) and Marquis Dew ('16).
"I hope students understand the world is bigger than Mount Vernon," said Erickson, the main organizer of the conference.
Erickson, a teacher with experience working in New York and Chicago, knows the power of diversity. In New York, teaching at a school of 5,000 students, she was aware of 40 different languages spoken. She felt that our small town students needed to witness the beauty of diversity.
Planning started last spring, and continued up until the day it was held. Erickson doesn't regret doing the work; in fact, she hopes it becomes a yearly thing. Her others hopes are that more teachers pitch in and that the conference presses on other matters, not just racial diversity. It would be a dream for her. The impact of the conference won't be noticeable right away, but Erickson hopes it helps to teach us how to make decisions.
Video of Opening Ceremony with Keynote Speaker Stacey Walker and a performance by the Metropolitan Youth Program Drum Corps:
Video by Garrett Welch and Drew Adams
Videos of sessions were captured by the video documentary J-term class.
LD Kidd–Hip Hop: Beats, Rhymes, and the Changing Times

Krystal Gladden–Endless Possibilities: Iowa's African American History

Marshaundus Robinson: Change Happens Through You
Carlos Devone: Hip Hop as a Tool for Change

Keeyon Carter– Divided: How did we get here?

Ann Dew: From a mother's heart, an open discussion on how we look at racial divesity

Dr. Ruth White: I was the only black student

Tags: care conference