News
,
Rotator
,
Spotlight
— By
MVHS Staff
on November 30, 2017 12:14 pm
By Lauren McCollum
Staring into the crowd for a familiar face through the blinding stage lights, a bead of sweat begins to slowly roll down the side of his face. The character he plans on portraying himself as is a nervous wreck, so at least it won't  be difficult to accomplish with the way he currently feels. Finally spotting the cue card held up by a friend, he begins to read the first part of his joke aloud. His hands move from the buttons on his shirt to directly in front of him, shaking a bit. With each word the feelings and nerves inside him continue to grow. How would they react? Will they laugh? Will they throw tomatoes at me? He starts to read the second part of the joke to finish it. Lost in thought, he barely notices when somebody in the back starts to laugh. That sound expands and pretty soon the whole crowd is laughing. Relief replaces the true nerves he is experiencing inside, but he keeps the fake ones still visible to the crowd to stay in character. Getting through that first joke gives him the confidence he needs to get through the rest of the show. No tomatoes were thrown after all.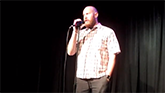 Stand-up comedy started for Matt Browning when he was in grad school at Western Michigan. Browning, now an English teacher, was there to write poetry, not realizing he would eventually encounter a new hobby. A few of his friends who were part of a campus organization that put on stand-up comedy competitions approached him about participating in one. Being his first competition, he put just a few jokes together, and performed them in front of the judges not sure of what to expect. Browning ended up placing third at that first competition, and from there on started frequently going to open-mic nights.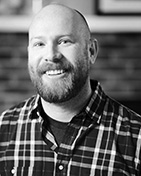 Browning never intended on making a career out of comedy. His favorite part was always writing the jokes. He enjoyed performing them to see if they were funny to other people as well, but mainly enjoyed the creative aspect of it.
"Setting somebody up to perceive your words one way, and then being able to totally twist them to show a complete different meaning is the humorous side that I enjoy of stand-up," said Browning.
Though Browning has always loved the ability to change words and use them in different ways, English has not always been his subject of focus. In high school he focused a lot on science, but in college struggled to keep up with the math aspect of it. During his sophomore year at the University of Iowa, Browning decided he was going to major in English. His poetry career really took off after taking a lot of creative writing classes that year, because they made him realize how much he enjoyed being able to create his own pieces.
Though he does not have an overall favorite poem, one he wrote called "On Earth" has always stuck out to him. The poem was an assignment in grad school when his class was looking at different structures of poetry.
"I was trying to use really long lines for a change, which impacted my voice and what I could write about in some ways," said Browning, "so I think the reason I have always liked it most is because it's kind of unique compared to a lot of my other poems." Browning ended up using it for the title of his first ever poetry chapbook that was published five years ago.
Browning's experience in both stand-up and poetry have informed his teaching.
"I think comedy over time helped a lot with my ability to move on from awkward situations that sometimes occur in the classroom," Browning said, "because that's a lot of what it is essentially, moving on from one joke to another."
Poetry helps in teaching because of the focus on language. "I hope when my classes are having a discussion it seems like my language is very intentional," Browning said. "I know that language can't capture everything we feel or think, but I think it has a pretty high capacity to do that if we use it right and it can be very powerful. I hope my students understand that, and they realize that's true of how I teach because I take words and language pretty seriously."