Rotator
,
Spotlight
— By
MVHS Staff
on December 1, 2017 9:00 am
By Cameron Ling
Mike Siegmund was 16 years old when he came to America for the first time. He was ambitious to discover new things about this strange country. One of the things that we was excited about was the new school system and the nice people that he met in Mount Vernon High School being a foreign exchange student last year. He revealed to some of his friends that he had some interesting hobbies that he had left in Germany. Mike traveled a lot around the many islands around Germany. While he was on the island called Zyillt, he decided to make sand castles and other sand structures. He started this fun hobby in 2014 where he creates a sand castle from his imagination. One of his favorite castles that inspired him is the Neuschwanstein castle in Germany.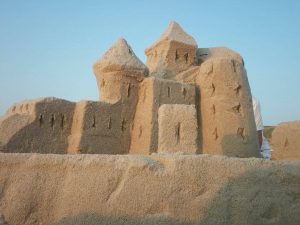 Mike is studying to be an architect which will take many years of college. In Germany, after high school there is an education between high school and college school that Mike is in now. The sand castles that he made helps him be creative and inventive in making a structure both work and look good. This hobby has definitely been beneficial to his planned career.
Making sand castles is a hard thing to do, but Mike was able to make many castles with almost no trouble. "It's all about the base structure," Mike said. Mike simply makes the castles with his immense imagination. His favorite parts of castles are the elegant edges and curves that the castles has, and the moats and areas surrounding the castles.
Ever since Mike went back to Germany, he has been studying to become an architect. In his spare time from the intense schooling that he has been going through he developed new hobbies in the last few years. Mike has a nearby laser tag arena in Berlin that he goes to frequently. Mike joined a team that plays laser tag every week and competes with some of the top teams in Berlin. "We are just starting out and I hope we can get better for the competition," said Mike. Mike has only been in the team for two months and he has enjoyed every part of it. Mike has his own vest and gun that he takes care of so he can be on the team. The team is comprised of a team captain and four other members. Mike is one of the rookies on the team but he is the most ambitious. He practices with the team by going up against his team mates and gets better because of it.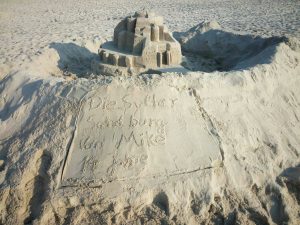 When Mike got back to Germany he wanted to keep in touch with his friends in America, so he saved up enough of his money to buy a MSI gaming laptop. Now that he as a nice computer, he is able to play games with his friends from all around the world. He decided that he wanted to play only a few games that he knew he would like. He plays Rainbow Six Siege which is a game with a destructible environment that you take objectives in, and a Hunger Games style game called Player Unknown Battlegrounds. Both games help him keep in contact with friends across the world.
This hobby of making sand castles, playing laser tag, and playing on the computer is what Mike is doing to pass the time to get an architect degree. Mike is looking forward to going to a special college for architecture. He wishes to build lots of modern structures using the gothic style.