News
,
Rotator
,
Spotlight
,
Track
,
Video
— By
The Mustang Moon admin
on April 28, 2017 11:45 am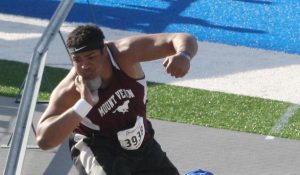 By Mason Reilly
He steps into the circle and walks up to the toe board looking into the throwing area. He turns around and kicks the board, at this time he is going through the form of the glide for his throw. As he walks to the back of the throwing circle he tosses up the 12-pound iron ball and catches in his right hand tucked under his right cheek. He clears his mind, bends down, and with an explosion twists around and throws the shot. The orb whizzes through the air and thuds heavily on the grass. The rest of the throwers scream and jump with joy. Tristan Wirfs threw the shot put 66 feet, 3.5 inches, the second farthest throw in the history of Iowa and the sixth best in the nation. Drake Relays was the turning point in Wirfs' shot put career. He now is on the record books as one of the best throwers in Iowa.
Wirfs won the discus at Drake this morning with a throw of 190 feet, 1 inch.
Wirfs has been doing shot since seventh grade. His initial experience with shot was that he thought it was exhilarating. He also was the one on the team that was bigger than the rest. This gave him an edge in competition making him feel good about himself. Seventh grade shot put for Wirfs was just fun child's play.    
"In 7th grade we didn't even use form" said Wirfs.
Now in High School Wirfs has to cast his play aside and get into the form of shot put and the two methods of  throwing. Which are glide and spin. The glide is Wirfs' favorite method for throwing shot. The glide is on average more consistent than the spin because the spin varies in distance.    
"The glide is much more consistent you're always throwing similar distances" said Wirfs.
When Wirfs practices his glide he makes sure his push off is very  to throw.  
For him practice makes perfect, repetition is key when getting the push off if you mess up their your throw is off.  In practice he warms up with stretches to keep him flexible to throw. There is also lifting involved to give his throws more power. He also keeps by jumping jacks and standing hurdles. For throwing Wirfs practices and refines his technique to get the most distance out of his throws. Wirfs likes competing and winning it makes him feel accomplished. Wirfs loves putting in his all for competition.  
"I love being able to compete at Drake Relays and State Track," Wirfs said.
Some of Wirfs best throws have happened recently with between 60 and 65 feet throws.
In discus, Wirfs is the current leader with 195 feet and 2 inches. This throw is also the fifth longest throw in Iowa high school's history. Wirfs started discus freshman year in 9th grade. Though not preferring the discus Wirfs is extremely skilled in this arena.
As for throwing in college, Wirfs will see how he does the rest of this season. Wirfs is signed on to play football at the University of Iowa next fall. He also grabbed a state title in wrestling this winter. His performance will decide whether he will throw in college. "I am not sure if I will through in college," Wirfs said.
Video of Tristan Wirfs at Drake/ Jack Young