News
,
Rotator
,
Wrestling
— By
The Mustang Moon admin
on March 10, 2017 2:54 pm
Story and Photos by John Butz
Jack Streicher (106) had a record of 34-9, ranked as high as seventh best in 2A, but coming into the tournament was ranked 10th. Streicher lost his first match of the day 7-1 to Jack Thomsen (Union). Streicher went into day two Friday with a loss 4-6 to Bryce Hatten (Winterset) ending his time in Des Moines as a state qualifier.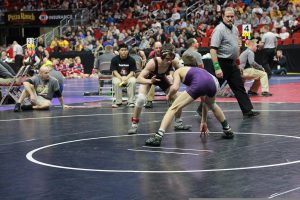 Ryan Clark (113) qualified with a record of 33-12. Clark came into the second day 0-1 losing by 23-8 to Aden Reeves (Albia). Clark wrestled on Friday, winning his first match of the morning by fall in 1:46 to Ian Showers (SH-BCLUW). Trying to make a comeback, Clark lost his second and final match 8-1 to Ashton Meyers (Keokuk).
Justin Light (132) came back for his second year as a state qualifier  into a tough looking bracket right off of the bat. Light lost his first round match 8-0 to Brant O'Shea (Keokuk), going into the loser's bracket. Light wrestled on Friday and lost 11-3 to Klayton Keller (Saydel) completing his high school career as a two time state wrestling qualifier.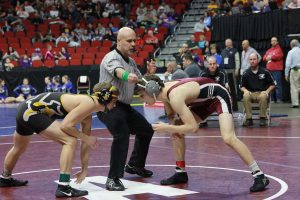 Paul Ryan (145) with the record of 35-9, missed out last year on being a state qualifier by one match. Ryan won his first match on Thursday 3-1 to Tim Sibbel (Kuemper Catholic) allowing him to go to the winner's bracket for Thursday. With the first match of the day, Ryan took an easy 7-1 win to Xavier Miller (PCM), advancing him further into the tournament. In the third round match for Ryan, he lost a competitive and close match 1-0 to Mitchel Mangold (West Delaware) putting him on the podium.  Ryan lost his final match of the year 5-3 to Tate Battani (Ballard).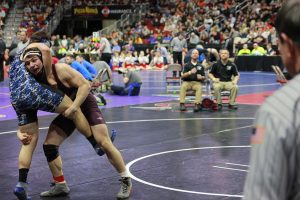 Sam Moore (195), having one of the best records on the team of 28-5, was a strong qualifier for the state tournament in Des Moines, ranked second best in 2A in the state of Iowa. Moore set out trying to complete his goal of standing on the podium. The first day Moore won his first match putting him in the winner's bracket. Hw won due to injury by default over Michael Fritz (Fairfield). On the second day, Moore went 2-0 by winning 11-8 to Louis Long (Bondurant-Farrar) sending Moore to the semi finals match in the class 2A on Friday night. Moore lost his next three matches, placing sixth overall.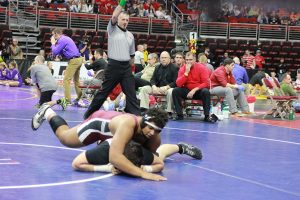 Tristan Wirfs HWT (280) came into the season with a vengeance for last year's tournament, not being able to stand on the podium. Wirfs had to shed 37 pounds from his football weight before meeting the weight requirements for wrestling. This caused him to miss the first few competitions of the year. Wirfs was ranked second with a record of 17-3.  After he was under 280, it was game on. Wirfs won his first match on Thursday 9-4 to Cody Tanner (Creston/O-M) getting to compete in the winner's bracket for the second day. Wirfs' second match was a win 9-2 to Eli Harris (Gilbert). Later that night Wirfs wrestled in the semifinal round to go the state championship round. Wirfs pinned Ethan Lape (North Fayette Valley) in the third round in 5:17. Wirfs was now in a position to be a state champion for Mount Vernon which only 10 people have been able to do. Wirfs won his state champion match Saturday night against John McKonkey (Atlantic) with a 3-2 win. Afterwords Wirfs said, "Before the state champion match I was nervous. I was just ready to go out there and get the job done." After the match Wirfs picked up his coach Vance Light and celebrated. Wirfs told me after the match "I had relief come over me, and cutting all that weight was completely worth doing."