News
,
Rotator
,
Uncategorized
— By
The Mustang Moon admin
on October 4, 2016 8:20 am
By Rachel Bell
Looking for a flavor getaway? Spice island is the go-to destination! School lunches can be boring, but cold lunches take time and planning. So spice it up! Each spice has its own expert recommendation to make every student a pro chef!
Applesauce too bland for your taste? Shake some cinnamon on it!
Are you just not feeling your spaghetti today? Top it off with some parmesan!
Is your pizza lacking something? Sprinkle a little Italian seasoning on top!
Spice Island is the newest addition to the MVHS lunch system. No longer can students complain that their food isn't seasoned to their liking. Spice Island gives all MVHS students and faculty the opportunity to shake a little flavor into their lives.
The kitchen staff attended summer classes in order to better understand the new nutrition laws for schools. After being asked to cut back on sodium, the group started brainstorming ideas for bringing added flavor to students. "A lot of other schools started flavor stations, and we thought it was a good idea," said kitchen staff member Marcia Purington. After another member of the kitchen staff referred to the condiment station as an "island" last year, the staff collectively decided to add some flare to their new idea of Spice Island. Who needs salt when you have an abundance of other flavors?
Don't forget to take advantage of these spices for cold lunches as well. A fresh flavor is sure to add a kick to mom's leftover meatloaf!
Next time you're not quite happy with your lunch seasoning, head over to Spice Island and add some flavor to your life!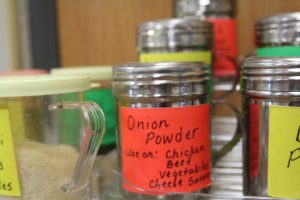 Top off all your Hispanic food with some cumin.