Rotator
— By
The Mustang Moon admin
on February 16, 2016 11:51 am
By Grace Pelley
As they pass the trays down the line, the students try to read the faces of people they have never met or seen before in their lives. The Social Justice class recognizes the brokenness in these people's faces.
Mrs. Erickson and Mr. Voigt's Social Justice J-Term class got a glimpse of what it's like to live in poverty. The goal of the class was to show students what is happening to people that we don't usually see here in Mount Vernon. The class consisted of many community service projects such as; serving food at Mission of Hope, painting a house for Habitat for Humanity, and building lending libraries to place where needed.
Junior Alyssa Maddocks greatly appreciated having the opportunity to take a class like Social Justice. "I feel so blessed to have the opportunity to take this class, I was finally able to take a class that I was so passionate about and I took away some incredible experiences," Maddocks said.
As the class progressed, students decided to create a book on the humans of Cedar Rapids. The book is based off of Humans of New York, a book by Brandon Stanton.  book includes many pictures and stories that students gathered by wandering the streets of Cedar Rapids and interviewing people. "What I love most about the book was that it took us out of our personal comfort zone, and allowed us to hear other people's stories," said junior Bailey Priborsky.
Social Justice teacher Leigh Ann Erickson wants her students to take this away from the class. "When you see a person suffering, do not ask yourself what is wrong with them, ask yourself what happened to them," said Erickson.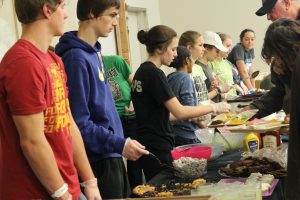 Tags: j-term, Social Justice