Football
,
News
,
Rotator
,
Video
— By
The Mustang Moon admin
on December 22, 2015 4:23 pm
Football video created by Reece Pitlik, Casey Noska, Chris Grice, Nick Leopold, and Cody Connolly:

The Mount Vernon Mustang football team went 11-2 on their second season under head coach Lance Pedersen. The Mustangs made the trip to Cedar Falls for the first time in over a decade, but they fell short against Spirit Lake 70-56 in the 2A Championship game. This video reflects on an unforgettable 2015 football season.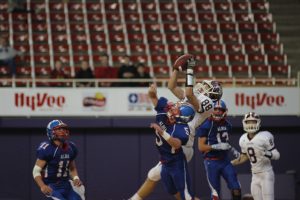 Tags: 2015, football, state, video