News
,
Rotator
,
Theater
— By
The Mustang Moon admin
on April 11, 2015 9:12 am
The MVHS theater department is putting on the musical "Footloose" this weekend and next in the district auditorium. The show is about a teenager who moves to a small town that doesn't allow dancing. Ren McCormack, played by junior Bryce Cox, tries to get the town to have a rock 'n' roll prom, against the teachings of the town pastor, Reverend Shaw Moore (senior Trevor Baty.) In the process, Ren falls for Moore's daughter Ariel (junior Jenna Reimann).
Tom Stephens is the director of the show, and Jill Wilkins is the choreographer. The show features live Tickets are $8 adults and $6 students. It is showing Saturday, April 11 at 7 p.m., Sunday, April 12 at 2 p.m. and the following weekend on Friday and Saturday, April 17 and 18 at 7 p.m.
Some photos from dress rehearsal April 10 are posted below. For more, see our Facebook page: https://www.facebook.com/media/set/?set=a.972917886059309.1073741865.140939439257162&type=3
The music of the show is wonderful. Here are some sample songs:
Footloose (cast):
Let's Hear It for the Boy (Hannah Clark):
Almost Paradise (Bryce Cox and Jenna Reimann):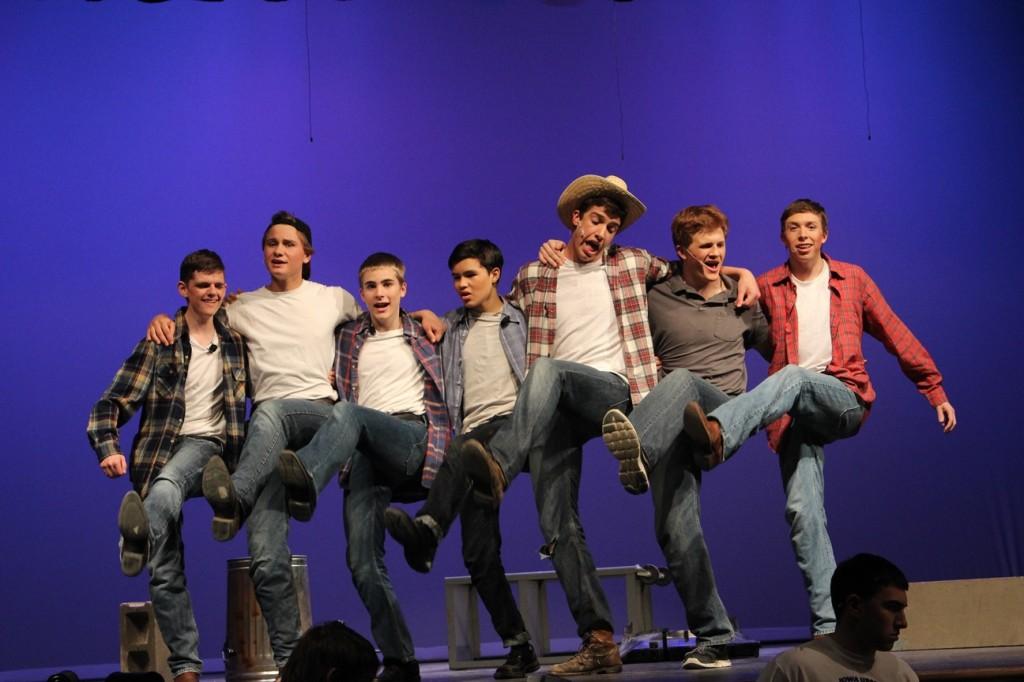 Cast List:
Ren McCormack – Bryce Cox
Ethel McCormack – Lisa Blyth
Reverend Shaw Moore – Trevor Baty
Vi Moore – Nicole Margheim
Ariel Moore – Jenna Reimann
Lulu Warnick – Stacey Jaeger
Wes Warnick – Matt Banwart
Coach Roger Dunbar – Mickey Hines
Eleanor Dunbar – Chloe Schumacher
Rusty – Hannah Clark
Urleen – Katheryn Opperman
Wendy Jo – Aubrey Lyon
Chuck Cranston – Luke Moran
Lyle – Elijah Recalde
Travis – Mitch Kragenbrink
A Cop – Aaron Barnhart
Betty Blast – Cassie Kaminsky
Willard Hewitt – David Taylor
Jeter – Sam Krapfl
Bickle – Jordan Hicks
Garvin – Ben Alger
Cowboy Bob – Chris Cripe
Principal – Theresa Gruber-Miller
Dance Captains/ensemble:
Audrey Gothard, Chloe Guillaume, Rory McCollum, and Chelsea Wallace
Ensemble (Choir, Parishioners, Townspeople, and Students):
Leah Arnold, Nicole Binsfield, Jenna Brannaman, Lucy Conroy, Yves Cotterill, Bree DeChant, Jaylee DeLancey, Lyz Erlandson, Emily Friedman, Jordan Greif, Sara Lyon, Si'le Pollock, Maggie Rechkemmer, Rehanna Rexroat, Bailey Rud, and Taylor Sherman
AD/SM- Courtney Madocks
Tags: footloose, mount vernon high school, musical