Cross Country
,
Spotlight
— By
The Mustang Moon admin
on February 9, 2012 3:10 pm
By Claire Gruver-Pandich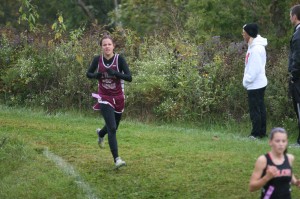 Junior Signe Jeppson has been a dedicated cross country runner since seventh grade. She comes from a very sports oriented family who run cross country; her father coaches cross country at North Cedar. Signe is a well respected and talented member of the varsity team.
"Signe is a fantastic runner. She works hard at running all year long and is very dedicated to it," Hanna Giegerich said. Signe not only trains hard through the normal cross country season, she also runs all through the summer.
"I go for long runs, but sometimes short runs. I like to run with my friends and my sister," Signe said. this dedication has helped her gain success. Signe has steadily improved over the time she has been running, and her teammates are excited to see her further improvement.
"I like the good feeling I get when I'm done. I feel accomplished," Signe said. And she should, according to her teammates. According to Lauren Wilch, she has been very successful as a cross country runner. Erin Pisarick said Signe was a "great leader and very competitive." Signe loves competing against other runners.
"My favorite meet is the State Cross Country Meet because so many people are watching. It's a good adrenaline rush," Signe said. Signe does love running, but she isn't so fond of hills. Signe says she "hates Cascade, there's so many hills." Despite that, she encourages everyone to try out for Cross country, and to try their hardest. But don't forget to have fun!
Tags: cross country, spotlight