News
,
Spotlight
— By
The Mustang Moon admin
on October 19, 2011 12:11 pm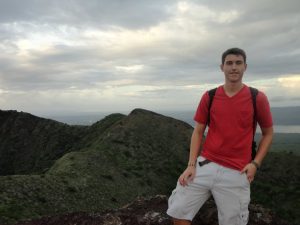 By Taylor Strother-
A group of 12 students and two high school Spanish teachers left Mount Vernon on July 31, 2011, to explore the language and culture of a Spanish speaking country. On this trip to Nicaragua was senior, Hunter Ruth headed on an experience "to enjoy a fun summer and learn more about the culture of the world."
Stepping out of the plane for the first time in Nicaragua, for Hunter, was like being in another world completely. From the people riding bikes instead of driving cars, to the scenery which consisted of lakes, mountains, and volcanoes in the distance, everything looked tropical. Birds were different colors, and geckos could be found on trees. Cows roamed the streets and people owned many farm animals. It was sunny and anywhere from 80-90 degrees for most of the trip, and not humid like Iowa. And although walking through Granada worked up a sweat, it was a nice temperature.
However, language came into play during the experience as well. Not only did Hunter attend a Spanish class every day, but he had to speak it to the natives and his host family as well. "You are constantly thinking in Spanish," said Hunter. "You learn to plan your words better. If someone asks you 'Como estas?' your first instinct is to say 'I'm good' but you can't. You have to think ahead to how you will communicate."
"It was definitely hard to communicate," said Leeann Olreich, senior. "There was a lot of vocabulary that we didn't know, but with hand signals, most of the time people understand what you're trying to say. Luckily, the people in Granada were very used to tourists and understanding of the fact that the students are still learning. Even the natives know some English in order to make crafts for the tourists and better able themselves to make more sales. The same goes for the host families in being understanding of new Spanish speaking skills.
An adventure that the group enjoyed that was a favorite of Hunter's was zip lining in Mombacho that doubles as a volcano. "That's where we went zip lining," said Hunter "There were all sorts of obstacles and views. It was more of a rainforest type of volcano than a rocky one that we visited first." More activities students did included volunteering at multiple schools around the cities, classes every day for a week that "the kids actually didn't hate," said Mrs. Ledger. The group also enjoyed a nice last couple of days at the beach right in front of a resort called Barcelo at Montelimar Beach where they stayed.
Another important aspect of any trip, especially in Nicaragua is the food. Hunter described a tortilla chip that is much different from what we have here in Iowa. There are plantain-bananas that are cut into slices and then fried into small wedges like potato chips, only sweeter and home-made. Another different specialty in Nicaragua was a food called Pinto Gallo, which is a fresh rice and black means mixture. "The food in Nicaragua was half and half," said Leeann. "Some foods were really good, and some were really bad."
They first landed in Managua, Nicaragua, the capital, excited to spend two weeks in a new part of the world. Along with the students was Erika Ledger, teacher of years one and three, and Sue Deibner, teacher of years two and four Spanish classes. Most students did many activities in order to raise money for the trip. Students worked at Iowa football games and wrestling meets selling concessions and raking lawns in town. This year, students are planning detasseling to help raise money as well.
After arriving in Managua, the group took a bus to Granada, a town south of Granada, where students would be spending the next ten days with a host family. "My host father was a well known painter around the area," said Hunter, "It was pretty cool to talk to him about his art." Hunter also stayed with a host mother, who has two sons, one ten years old, and one nine years old, as well as the sister of the host father. Another host family during the trip was a couple that lived in a huge and beautiful house. People around the town referred to it as "the museum." They would stop by at all times of the day just to visit. In Nicaragua, people matter. It's not the fast paced world like America. People always take the time for others.
In visiting places around the world, it gives people perspective and important lessons to be learned.
There were many schools that the group volunteered at in Nicaragua, but at one in particular, was an important thought at hand. The group came to a school that didn't have a lot, but held about 150 students. When the group entered the school, every child ran to each student and teacher and gave them huge hugs. Hunter described the experience as amazing. "Kids that have little to nothing embrace you with such enthusiasm," said Hunter. "It makes you feel more important, and you realize the other issues in the world. It's like you're some kind of hero or something."
Tags: spanish, spotlight